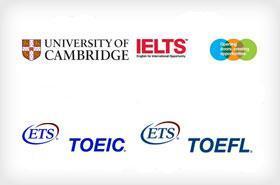 Published 06 April 2013
Te preparamos para presentar cualquiera de los siguientes exámenes internacionales: PET , FCE , IELTS , CAE, GCSE , TOEFL, TOEFL IBT, TOEIC, etc.
Más informacion...
FCE COURSE: First Certificate in English es un examen para estudiantes con un nivel de Inglés intermedio superior. En el examen se evalúa la redacción, la comprensión de lectura, la gramática, la comprensión oral y las habilidades de conversación. Nuestro curso te preparará para todos estos aspectos del examen y obtención del mejor puntaje.
Our Cambridge FCE Exam Preparation course (upper-intermediate o advanced level students)
will prepare you to:
understand the main ideas of complex pieces of writing
keep up a conversation on a fairly wide range of topics
express opinions and present arguments
produce clear, detailed writing - express opinions and explain
the advantages and disadvantages of different points of view
IELTS COURSE: (intermediate to advanced level students.
Work with a variety of topics similar to those on the IELTS test
Employ a wider range of academic vocabulary in your written and spoken English
Use and understand increasingly complex language
Write accurate reports and academic level essays that focus on the requirements of the IELTS test
Read and listen to longer, complex, academic texts
Become confident with all parts of the IELTS test and learn the best way to maximise your results in each part
Use a wide range of IELTS examination techniques that will help you get your best IELTS score
Become confident in your test-taking ability through taking regular mock IELTS tests
Cambridge English: Advanced, also known as Certificate in Advanced English (CAE) is internationally accepted as a high-level test of English language.CAE COURSE: Preparing for Cambridge English AdvancedThe demand for high-level English language skills is increasing all around the world. Passing Cambridge English: Advanced (CAE) shows that you are a high achiever and will give you the practical English skills:

Accepted globally as proof of high achievement.
More than 3,000 educational institutions, businesses and government departments around the world accept Cambridge English: Advanced (CAE)as proof of high-level achievement.
A certificate with endless opportunities.
Helps you develop the language skills you need for success, and can be used for your university and student visa applications in the UK and Australia.
It provides high-level English skills for academic and professional success.
Preparing for Cambridge English: Advanced (CAE) helps learners develop the skills to make the most of studying, working and living in English-speaking countries. Employment in professional international environments.GCSE English exam (General Certificate of Secondary Education): Do you want to study at an institute for further or higher education? Do you want to study for professional qualifications in the UK? Then The International General Certificate of Secondary Education (IGCSE) could help you. You can register and take either the London Examinations International or Cambridge International Examinations with us.WHAT IS IGCSE? The highly sought-after IGCSE is a qualification that is taken in over 100 countries worldwide. It provides you with the basic qualifications for entrance to higher and professional studies in Morocco and other countries. IGCSE is equivalent in standard to the British GCSE and is recognised as evidence of ability by academic institutions and employers around the world.
Please contact us: info@englishmexico.com